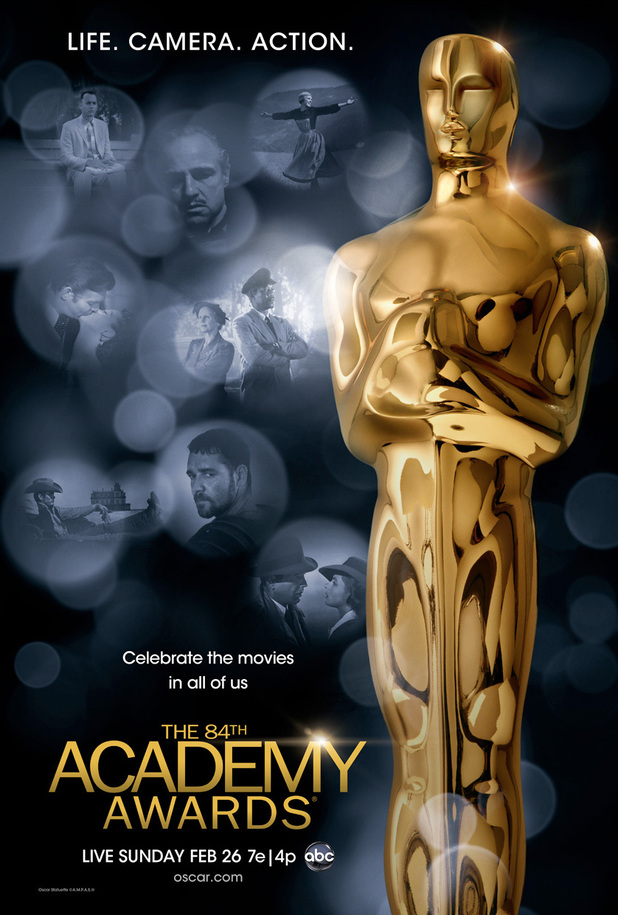 Last year before the Academy Awards I decided to toss out who I saw winning in some of the major categories, and since last week a trip to Las Vegas prevented any movie watching, and this week I've been out of it (literally) with the flu, I figured what better way to pass some time on the couch? Let's get to it...

As I did last year I'll tell you who should win for each category, and who will win. I have not seen every movie that is up for a nomination but I have seen quite a few. The full list of the movies I've seen and reviewed is available on the right sidebar.

Best Foreign Language Film
Ha! Just kidding... We're only going to stick with categories that the American viewing public actually care about.

Best Adapted Screenplay
Who Should Win: Moneyball (Steven Zaillian, Aaron Sorkin, and Stan Chervin
Who Will Win: The Descendants (Alexander Payne, Nat Faxon and Jim Rash)

Do I have an obvious bias with Aaron Sorkin being involved? Of course I do. But with that being said I think that anyone who can take a book about the statistical analysis of building a baseball team and turn it into a true to the book film about a family man who will do anything he can to help his employer reach the pinnacle of its sport, gets a serious look from me. Of course I don't think think Moneyball will win the statue, that honor should go to The Descendants. The story about a family who has the potential to change an entire Hawaiian island but must first settle its own issues was incredibly well made and deserves every ounce of credit it gets on Sunday night.

Best Supporting Actress
Who Should Win: Berenice Bejo (The Artist)
Who Will Win: Berenice Bejo (The Artist)

Are you ready for the dominate theme of this year's awards? The Artist. The silent film is going to speak quite loud on Oscar night. Bejo was incredible in her role as Peppy Miller, the new Hollywood It Girl as the "talkies" begin to take the country by storm. While I have never been an actor (my 4th Grade production of Mr. Grumpy's Toy Shop aside), I can only imagine how hard it is to get your character across on the big screen when you have no words to help you.

Best Supporting Actor
Who Should Win: Max von Sydow (Extremely Loud & Incredibly Close)
Who Will Win: Max von Sydow (Extremely Loud & Incredibly Close)

There has been a little bit of buzz behind Jonah Hill in this category for his role as Billy Beane's assistant in the A's front office. He did a great job, but without the caring of Max von Sydow's character in his film I would probably have just wanted to punch that little smart mouthed kid for two hours. He helped bring emotion out of me while watching that movie and did all of this without saying a word. You could say that the silent theme is continuing.

Best Actress
Who Should Win: Rooney Mara (The Girl With the Dragon Tattoo)
Who Will Win: Michelle Williams (My Week With Marilyn)

If you haven't seen the American version of The Girl With the Dragon Tattoo you are missing out on one of the best films of the year. There are definitely a couple of scenes that will leave you feeling uncomfortable, but the reason you will feel that way is because of the incredibly acting job that the young Rooney Mara puts on. Her character will make you laugh, and most certainly will make you cringe, but bringing out multiple emotions out of the audience is the job of a leading lady and she does this magnificently. So why didn't I pick her to win? Honestly, it's because of those two scenes. There is just something about the Academy that makes me believe they will go in a different direction. Having not seen all of the films in this category I'm giving the nod to Michelle Williams based on what I've heard about her role as the late Marilyn Monroe.

Best Actor
Who Should Win: Jean Dujardin (The Artist)
Who Will Win: Jean Dujardin (The Artist)

Hmmmm.... a developing trend you might say? Well there is that, there is also the lack of dominating leading men in this year's nominations. George Clooney was fantastic in The Descendants, but the great thing about George is when he acts it seems like he is just playing himself, with a different job and name. I could certainly see him as a floral shirt wearing lawyer from Hawaii. Dujardin meanwhile plays what Clooney would have been like had he been born 85 years earlier, and he does it so convincingly I think it will bring him another little silent golden friend to mime with for the rest of his days.

Best Picture
Who Should Win: The Artist
Who Will Win: The Artist

Does anything really need to be said?