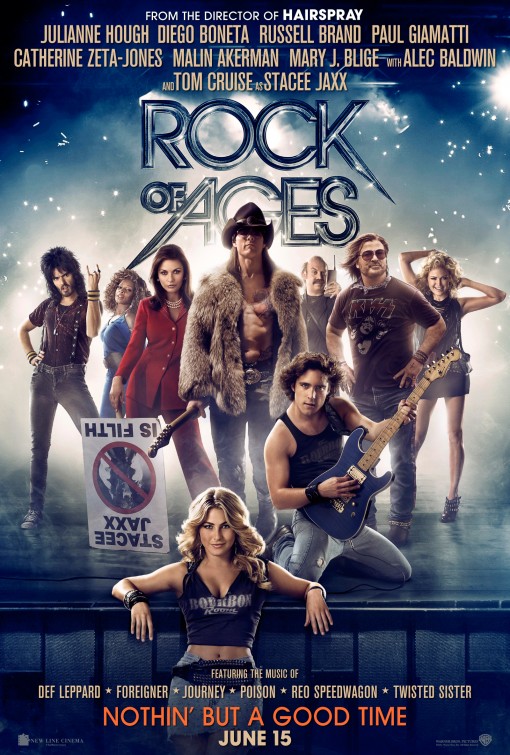 It took me nearly three weeks but I was finally able to sneak back out to the theaters last week (in the middle of the week mind you) to see Rock of Ages, the latest musical to hit the big screen.
Tom Cruise is the big name in this movie as he plays Stacee Jaxx, the lead singer of an 80's hair band who is ready to make it on his own. His appearances at a local Hollywood hot spot on the Sunset Strip are vital to the lives of Sherrie Christian (Julianne Hough), and Drew Boley (Diego Boneta).
Hough plays a young mid-western girl who heads west in search of fame and fortune. Upon getting off the bus and getting mugged on the mean streets of L.A. she meets Drew and is quickly offered a job as a waitress at a local night club which is owned and operated by Dennis Dupree (Alec Baldwin), and his partner Lonny (Russell Brand).
This movie is the ultimate, no thinking movie. You can sit and relax in the theater with your popcorn and diet soda and not have worry about the plot line going over your head. You'll tap your toes to the 80's music, and hope for more Bon Jovi songs to be played (wait... that was just me? OK).
You aren't going to walk out of the theater and rush home to discect the story, or break down the acting skills of anyone involved (although for the first time in human history Russell Brand was actually funny), but you are going to walk out entertained, and most likely with a song stuck in your head.
Let's just hope it's a Bon Jovi song.
Rock of Ages
Directed by: Adam Shankman
Written by: Justin Theroux, Chris D'Arienzo, Allan Loeb and Chris D'Arienzo
Starring: Julianne Hough, Diego Boneta, and Tom Cruise
My Rating: 3.25 out of 5
Would Gene Pick it?: Yes