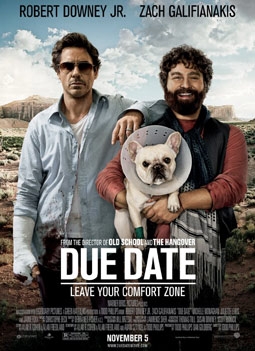 I'm not sure that I have ever watched a movie that had a character that actually put me in a bad mood. Congratulations Robert Downey Jr. you win!

This was one of the worst movies of the year. I went into this one expecting to laugh at a few parts but didn't really know what to expect out of Galifianakis and Downey. I didn't know how they would play off of each other, or if Downey could actually be good in a comedy. Turns out, he can't. While writing this review, I decided to check out Downey's IMDB page to see if he has ever done anything that I enjoyed. Turns out, he hasn't.

I mentioned in my previous review of It's Kind of a Funny Story I loved Galifianakis in The Hangover, but hadn't seen much else of him that I enjoyed. That all changed in that film, but the one character that he seems to play in every other movie that he does, still isn't good. If you've seen any of his movies, you've seen him in this one. He has a few lines that will make you laugh, but for the most part he isn't worth spending your money on.

Jamie Foxx has a small cameo in this movie, which may be the worst role in the history of film. His character makes absolutely no sense, he adds nothing to the plot, and has zero funny lines. Whatever he got paid for this movie he stole.

Todd Phillips has worked on some of my favorite comedies of all time. As usual this movie contains its fair share of crude humor, but unfortunately unlike Phillips' past movies the crudeness did not provide any humor. Hopefully this was just a bump in the road for him, and not a sign of things to come.

Don't waste your time watching this movie, all of the funny scenes are in the trailer, and you won't be in a bad mood from 2 hours of watching Robert Downey Jr. trying to be funny.

Due Date
Directed by: Todd Phillips
Written by: Alan R. Cohen, Alan Freedland, Adam Sztykiel, and Todd Phillips
Starring: Robert Downey Jr., Zach Galifiankis, and Michelle Monaghan
My Rating: 1 out of 5
Would Gene pick it?: NO!